Choral
Rhiannon has extensive choral singing experience. She is a soprano choral scholar singing with Jonathan Rennert and the Choir of St. Michael, Cornhill
www.st-michaels.org.uk/music-NL.html
and with Stephen Layton and the award-winning Choir of Trinity College, Cambridge, voted '5th best choir in the world' by Gramophone Magazine (
http://trinitycollegechoir.com//​
) and 'the Rolls-Royce of choirs by Limelight Magazine (http://www.limelightmagazine.com.au/live-reviews/review-choir-trinity-college-cambridge-musica-viva). Recent performances with Trinity include Bach B Minor Mass at St. John's, Smith Square with the Orchestra of the Age of Enlightenment.
Rhiannon has performed across the UK in Ely, Salisbury, York Minster, Lichfield, Guildford and Norwich Cathedrals. She appeared as soloist in Mozart's Coronation Mass and performed one-per-part motets live on BBC Radio 4's Sunday Worship, as well as touring Switzerland, Spain, USA and Hong Kong when she was a Cambridge University Choral Scholar singing with Girton College Chapel Choir (2011-2014) under Nicholas Mulroy and Andrew Kennedy.
Rhiannon is a long-standing member The Rodolfus Choir under Ralph Allwood, and she has deputised at Queens' College, Cambridge; under Geoffrey Webber at Gonville and Caius College Choir; and Graham Ross at Clare College Choir. She has also performed with the CBSO Chorus and Simon Halsey/Andris Nelsons in Britten's War Requiem at the BBC Proms 2014, and the London Youth Choir under Suzy Digby.
Rhiannon currently manages Cambridge University Musical Society's university-wide Chamber Choir (
http://www.cums.org.uk/about/ensembles2/cucc/
) with whom she has performed side-by-side with The Cardinall's Musick/Andrew Carwood, with the RPO at the Royal Albert Hall, and alongside His Magestie's Sackbutts and Cornetts and members of the Orchestra of the Age of Enlightenment.
Opera

​
As a singer she has performed the roles of Leonore (
Fidelio
), Zerlina (
Don Giovanni
) and Susanna (
The Marriage of Figaro
) in opera scenes concerts at Cambridge, and as a member of the female chorus in her own opera
Dido is Dead
(2015).
Rhiannon studies voice with Shelia Barnes at Trinity College, prior to which she studied with Charbel Mattar at Girton College, and with Marilyn Rees at the Guildhall School's Junior Department.
​
---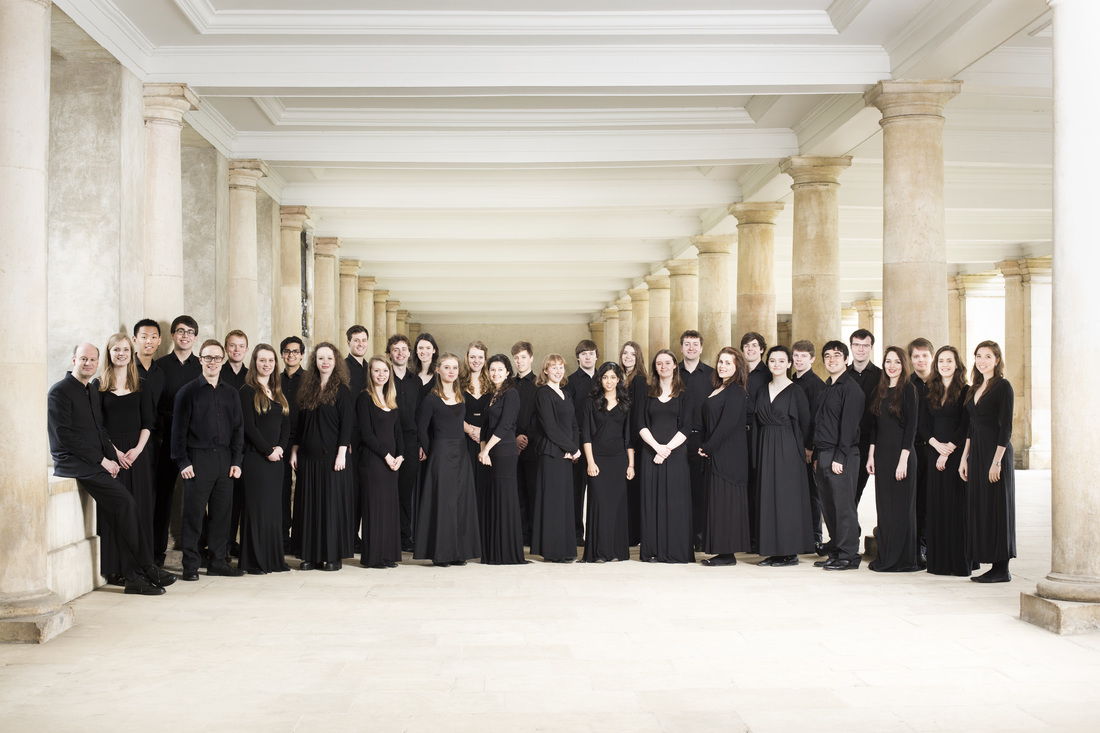 Pictured above: Rhiannon (9th from the left) as part of The Choir of Trinity College, Cambridge (www.trinitycollegechoir.com)